My primary thesis is that humanity, and each of us, is evolving with the rise of Eros over Logos. The latter has largely dominated for the last few hundred years in particular, and primarily over the past few thousand years. I believe we are entering a turbulent period where we will see many changes as Eros reasserts its power and strength. Logos will take its rightful place as a necessary and strong partner with Eros, rather than trying to dominate Eros. Both processes and approaches will be fortified by this divine marriage of the feminine and the masculine.
Woman's consciousness is characterized more by the connective quality of Eros than by the discrimination and cognition associated with Logos. In men, Eros … is usually less developed than Logos. In women, on the other hand, Eros is an expression of their true nature, while their Logos is often only a regrettable accident.

["The Syzygy: Anima and Animus," Carl Jung Collected Works Volume 9ii, par. 29.]
This quote comes way from the excellent website by Frith Luton, a Jungian analyst living in Australia. She has a great deal of well organized information on Jungian concepts. I am working on my own posts on the major concepts in Jungian thought, but I give Frith full credit for informing me. You cannot understand Jung without knowing the major concepts and definitions he uses, but it is really not that complex to get started, although a few lifetimes would be required to digest everything Jung wrote. That is certainly not necessary, however – any sincere attempt to play with and understand the Jungian ideas is more fruitful than almost anything else I am aware of in psychology. Jung cracks open the bones and examines the marrow of our souls and psyche. It's a lot more fun and helpful than reading a web article on "The Nine Keys to a Happy Life".
Crap – digressing again. Where was I? Evolution – right. We are evolving and we need support and guidance for our souls, higher beings, deeper selves – whatever word you want to put on that part of you that yearns for meaning and the marrow of life that Jung exposed. Where do you find your purpose in life? Where do you find guidance from deep within yourself. Where does that voice within you come from that warns you that your boss is up to no good? Or that person you just met may the most important person you will ever meet? Or you were born to be an actor even though your parents and your boyfriend think you should go into engineering?
The unconscious is the reservoir of knowing that serves you in these ways and countless others. Jung considered that you had a personal unconscious and there is a collective unconscious that we can all tap into. Since Jung is central to my thesis, I'll be talking about these a lot. Our personal unconscious and the collective unconscious are essentially an enormous library of ideas, thoughts, feelings, archetypes, myths, history, and possibilities that we all have access to, but how do we access them?
Art and dreams are both ways to access this unconscious material, in the invaluable process of making the unconscious, conscious, which Jung considered to be critical for our personal growth, and peace of mind. I cannot speak directly for visual artists, musicians, performers, or any other kind of artist, apart from a writer. If I am an artist, it is confined to writing, but I think the essential act of artistic creation is basically the same for all artists. And if truth be told, I think that we humans are all artists, or at least potentially so, if we apply ourselves.
I cannot really say where the words, ideas and emotions of my writing come from. I can wake up at three in the morning with ideas that force me to get up to record them. I will sometimes tell myself I am too tired and I will remember them in the morning, but my mind refuses to rest until I write them down. That can last an hour or more. Other times I will wake up restless and start reading something – perhaps from the day before, or I will randomly open another book. I can then feel compelled to make notes on what I am reading. I seem to think of things with my head, but not really. It is not like solving a logical problem at work, which is a more sequential process. But the creative process, in art, or anywhere, is poorly understood. I like that because it seems to have a magic that defies easy analysis.
So art can be a source of transmission from the unconscious to the artist. But the fun of art is that it does not remain with the artist – at least the artist certainly hopes not. The artist presents the piece and then the audience receives it with their own understanding. Hopefully a piece of art sparks something creative within the audience and something new is created. Art is a personal experience of the artist and of the audience.
I'd like to give an example of my interpretation of the cover art of a song I recently posted. This was a song I really liked when I was younger and I rediscovered it just a week or so ago – I think through my unconscious – I can't even remember the exact path of it.
The song is by 10cc – Feel the Benefit and here is the post I made on it.
The cover art picture was by the brilliant team of Hipgnosis – who made some great cover art for music albums. I spent more than a few hundred hours listening to the music in my bedroom gazing at this art – not just this one for Deceptive Bends – to be clear.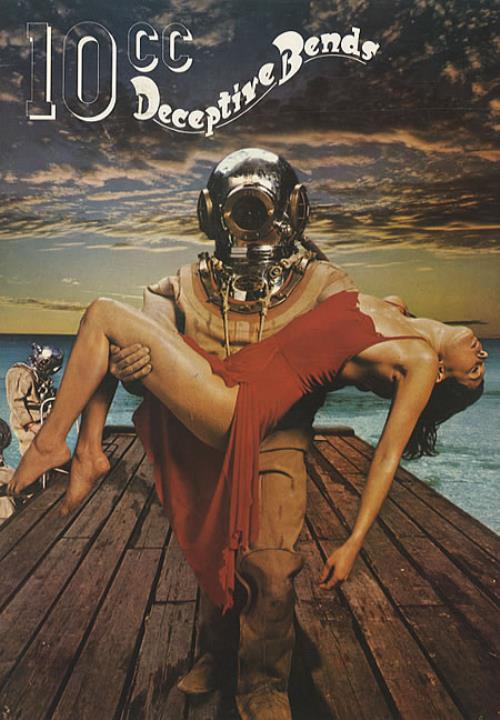 Now I am going to give my interpretation of what I see and get from the picture above. This is not anything more than my personal understanding of what this means to me right now. I did not make these connections when I bought or listened to the album many years ago. Attractive half-clothed women have never required any more justification in my mind, and I am sure I was satisfied with that at the time, but now, with my writing and appreciation of Jung, I see much more.
I see a deep sea diver, fully suiting, carrying a limp, but alive woman. Presumably, he has rescued her from the depths of the water, since he is wearing the apparatus required to dive deeply. Deep water is a wonderful symbol for the unconscious – both personal and collective. The man went down there and found the woman and brought her up. She is obviously very strong to have survived without the suit that he required. I see the woman as representing Eros, in the Jungian sense. The man represents Logos. The woman is free of constraints and in her virtually natural state – almost naked – very exposed and vulnerable, yet again, obviously strong to have survived. She has a natural vitality that cannot be ignored, and certainly a sensual nature that is clearly exposed here.
The man is suited up, almost like a robot. His humanity is completely covered up and obscured by the suit, which is almost a machine – man made. He dived into the water, but was not really touched by it – certainly not as the woman was. He has saved the woman at some level, or perhaps he wants something from the woman. He may want and seek her vitality – her life force. He strikes me as caring, but I may be projecting more than I am seeing. The narrow window through which the man is able to see the outside world is very limited. In that suit, the man is almost entirely exposed to his own inner world (the world of ideas for Logos) and cannot see or perceive much past that small window. The woman, Eros, is exposed to a much greater knowing of the outside world than the Logos of man. But again, the man has saved the woman so he values her – Logo is not entirely cut off from Eros, from life. He may not know why he is attracted to Eros, but there is no denying it.
So that is what I receive from the picture. I'd be surprised if the artist had similar thoughts, or perhaps he did. That is irrelevant. Each viewer brings their own experience, thoughts, and feeling to bear on the art and creates their own meaning. There is no right or wrong.
A year ago, I probably wouldn't have come up with the same ideas or notions of this. A year from now I might see something different. That's art, which some might feel is intimidating or you might think I'm just making up silly ideas that the artist never intended – pure fabrication on my part. You could be right – I don't care. Art does not require justification or explanation – ever.
But let's move to dreams. Everyone dreams. You may not think so, but you do. You just may not remember them. Dreams are freaky and fascinating. They are mind-bending and creative and they arise within you. Their source is the unconscious – the personal and the collective. Their purpose? I think it is clear that they have the great purpose of informing and animating our personal growth – like art – helping to being the unconscious to consciousness. You live within this giant library of knowing, feeling, archetypes, myths, etc and dreams help to crack open a book or two, or three, every night. Life and biology are efficient and purposeful – to support our lives and our growth, since life without growth is stagnation and death. I will write a lot more about dreams but I am eager to try to spark some interest. It is never too soon to attend to your dreams. Jung believed that dreams do not tell us things we already know – there would be no point or advantage to that. Dreams are designed for discovery – like art.
Assume that dreams are trying to tell you something important and valuable for your life, but ultimately you must do the work of interpreting and understanding their meaning for you. Playing with a dream is fun, but a challenge. Write down your dreams as soon as possible. Try to record as much detail as you can – even minor details can be important to help in understanding. I am personally working with a Jungian analyst to help me in my process of individuation – the personal growth of a person leading to the discovery of the Self. I have written on this and will write a great deal more. Dreams are personal to you. Do not buy a dream analysis book and use that to understand the personal symbols. There are great archetypal themes and patterns in dreams, but assume nothing without experience and thought. Play with the dreams and your ideas about them. Hold the thought of a dream and perhaps you might dream some clarification in the near future. You will get better with practice.
Working with a Jungian is invaluable in understanding your dreams better. As you attend more to your dreams, you dream more and better – move vividly and more interestingly. It is as if your unconscious is responding positively to your beginning to listen more to it, which makes sense. Your psyche and unconscious are rewarding each other in the process of following dreams with greater interest.
To give you some idea how this can work, I am going to briefly describe an important dream for me.
I am in Portland Oregon for a meeting and I leave the course to do some touring. I am in a small car that seems conventional, but becomes a small hovering car – very cool. So I am zipping around exploring and follow a road for a while, but turn off into a garden shopping area. It is like a beautiful garden with a number of interesting shops. I head into one that is largely gardening materials – maybe no big surprise. I am zipping around in my cool little hover car, when a very large black dog comes bounding at me from the back of this store. The dog is not threatening, but is aggressively coming at me and comes behind me and clamps his jaws around the back of my neck so I am immobilized. I am in no pain or discomfort, but I cannot move my body or my head. The dog has me in his grip. I call to an older man at the back of the shop where the dog came from, but he ignores me. The dream ends with the dog clamped around my neck – just holding me.
At first, my analyst was concerned about the dog, but I made it clear that at no time was I afraid of the dog. He was concerned about my lack of fear, but I understood that the dog was not trying to hurt me – at all. I was never in any danger. We both came to the conclusion that my zipping around in a small hover car was sort of how I operate at times – moving from idea to idea and seldom sticking with something long enough to see it through. The dog was perhaps part of me, or part of something beyond me, that was telling me to ATTEND! Pay attention to what is before you. Do not allow yourself to be distracted! Stop and pay attention – this is for your own good. The dog was not there to hurt me or even to intimidate me, but to serve me.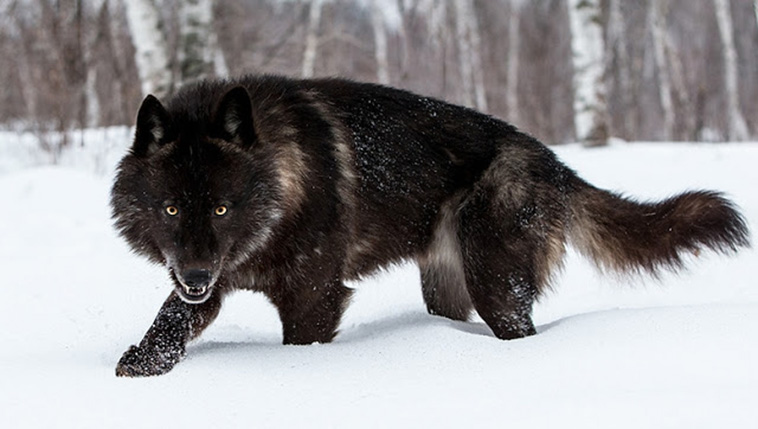 Now this is a simple dream, but the image of that dog has stayed with me and I consider that dream and that dog to be a great teacher for me, that I am taking to heart. Attend! Pay attention! Stop succumbing to distractions that don't serve you! Now that is a valuable dream. I have since had many others, but the elegance and force of this dream has stayed with me powerfully.
I cannot emphasize how important both art and dreams are to fuel and inspire our growth and evolution. Play with both of them. You can't get it wrong. If you miss the message the first time, or the next, or the next, or for years, your unconscious and the collective unconscious will never tire of trying to bring important material to your awareness. Art and dreams are powerful, yet subtle. I see art as a form of cooperative dream between the artist and the audience member.
There are other ways we receive such information and knowing, but you can't go wrong by starting with art and dreams.